"A Long, Long, Time Ago..."
Emerging from bands such as "The Blitzkrieg Sound Attack", "In the Beginning", "Montage", "Crew 22", "SOMF City Band", and "The Deraylers", the members all have had wide-ranging musical experiences. From 1979 to 1983 as "Maiden Voyage", the band played a bit of everything: Rock, Blues, Country, and even,Standards. Their Variety Band repertoire was perfect for weddings, VFWs, country clubs, and small local clubs.
"One, two, three o'clock, four o'clock rock..."
The legacy band, "Maiden Voyage", played a little bit of everything: Rock, Blues, Country, and even Standards. Their Variety Band repertoire was perfect for weddings, VFWs, and some country clubs.  But the demand for the format had fallen off to near nothing. This was likely due to the increasing
popularity
 of '50s/'60s Rock-N-Roll, brought about by the movie, "Grease".  50's/60's dance clubs were popping up all over. With this in mind the band was looking to make a change. The original drummer, Ken McCoy incurred unsuccessful carpal tunnel surgery; effectively ending his drumming career.  Don Johnson had been performing with Cactus and members of the SOMF City Band and other Southern Rock bands for quite a while, but was a free agent. In order to take 50's/60's rock and kick it up a notch, the band needed an "energy" drummer.
On October 26, 1983, Don Johnson (Drums) performed his first gig with the band. Don fueled raw energy into the band.  While working through the arrangements for the new format, the band played out their remaining "Maiden Voyage" gigs culminating on New Year's Eve.  Performing at Annunciation Catholic Church NYE party, the band began the evening with the old format.  While on break, the band 
changed
 costumes.  When they took the stage, they brought out the new format; bringing in the year; officially announcing the birth of "Cactus Jack and the Cadillacs".
A few months later, "Cactus Jack and the Cadillacs" became the house band at the 50's/60's "Grease"/"Oldies"-styled nightclub at the Sheraton Orlando called "Rickie Lee's". With house characters like DJ "Doctor Detroit" 
, "The Tub-Tenders", 
and "Chris… on sliders", it was the partying place for a quite a 
while.  This club launched several top Orlando Florida bands; including "Cactus Jack and the Cadillacs"
The five original members of the band were: Jim "Cactus Jack" Stanley (Guitar), Tom "The Bopper" Oliver (Guitar),  Mike "Colonel"Parker (Keyboards), Randy "Cool Daddy" Hill (Bass), and Don "Vice"Johnson (Drums).
"Here they come, walkin' down the street..." (The Church Street Station Years)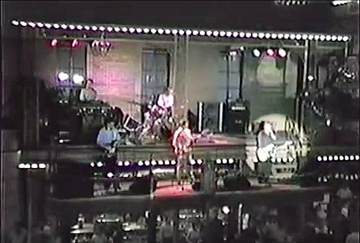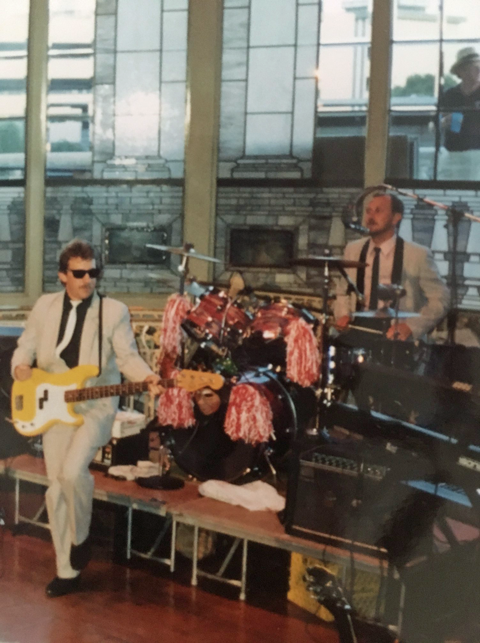 A few months later, after a hugely successful performance during "Light-Up" Orlando, while sponsored by Rickie Lee's, "Cactus Jack and the Cadillacs" caught the attention of the entertainment director for the booming "Church Street Station" entertainment district in downtown Orlando. This adventure began as the Friday, Saturday, Sunday night house band in the Orchid Garden Ballroom; transforming the location from a dinner club to a Rock-N-Roll Venue. As "Weekend Warriors" with full time professions, this was the perfect gig for the guys. As The Orchid Garden became increasingly successful, they required a full-time house band. So…, "Cactus Jack and the Cadillacs" became the "Street Party Specialists", playing several street parties a year from 1985 to 1995.  Events included:  "Oldies Weekends","New Year's Eve Extravaganzas", "Boola Bowls", "Light up Orlando", and headlined the street party for the 1994 World Cup.
Alter-egos and Themed Events
During the late '80s, through the mid-to-late '90s, Orlando was becoming convention crazy.  Themed events were becoming very popular; especially for musical groups with production capabilities.  Cactus Jack and the Cadillacs, in association with FL Technical Services then developed two themed shows for conventions:  "Hair, Peace, and Love" for "Hippie Parties" or "Woodstock" themes and "Banzia Bob and the Beach Patrol" for those desiring California Beach style mixed with a bit of "Parrot Head"
"Gimme a head of hair…"
 "Hair, Peace 
(Piece?), and Love" was the band's salute to the psychedelic '60s and early '70s. Featuring 
headbands and the music of bands like Steppenwolf and Iron Butterfly.  Some 
conventioneers
 held authentic "Hippie Parties". They even resorted to 
building
 "bra burning piles", full dress up (gogo boots, mini-skirts, tie-dyed shirts, peace symbols and more) While this theme was somewhat 
short-lived, it was quite lucrative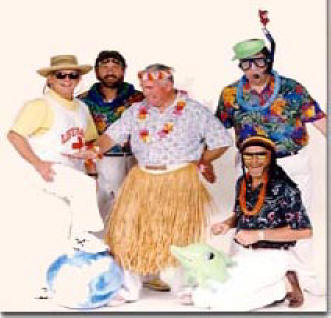 "Catch a wave and you're sittin' on top of the world…"
Other convention planners used Beach-themed parties to
appeal to corporate buyers. The band's "Banzai Bob and the Beach Patrol" was just what they wanted:  Hula Hoops, Limbo Poles and the California beach sounds of the '60s produced some crazy parties. People still talk about the group of fully-clothed partiers who followed The  Bopper, as he led the entire conga line into the country club pool.
"Time keeps on tickin', tickin' , ticking' ... into the future..."
Performing these three themed shows at conventions from Key West to Asheville kept the band (and the audiences!) hoppin' all through the '90s. Midway through the decade, however … "WHAM!" Cactus incurs a major heart attack, requiring quadruple bypass heart surgery.  While his prognosis was for full recovery, he would be unable to perform for at least three months.  Fortunately, Bopper had been hanging out with an old friend, saxophonist, Randy "Wolfman" Lobeck.  Randy had been performing for years with Dave Webber (Trumpet) and Terry Baber (Trombone).  
Fortunately, Cactus' heart attack didn't come during peak convention season.  So Bopper and Wolfman came up with the crazy idea to use three horn players to fill in while Cactus was laid up.  Thus,
"The Cadillac Horns"
"The Cadillac Horns" helped fill in as Cactus recovered. It wasn't long before Cactus returned, stronger and crazier, and more energetic than ever!
From time-to-time, the band would perform eight-piece, and, on a signature night at Universal's CityWalk, the Cadillac Horns helped the band take First Place in the Cool  105.9 Radio Station's "Battle of the Bands." Wolfman continued to play with the band from time to time. His first-class musicianship and beautiful sax work,honed through years playing with Bob Seger in Detroit and local legend J.J.Johnson in Orlando really enhanced the sound of the band. So in 2001, he became a permanent member of the Cadillacs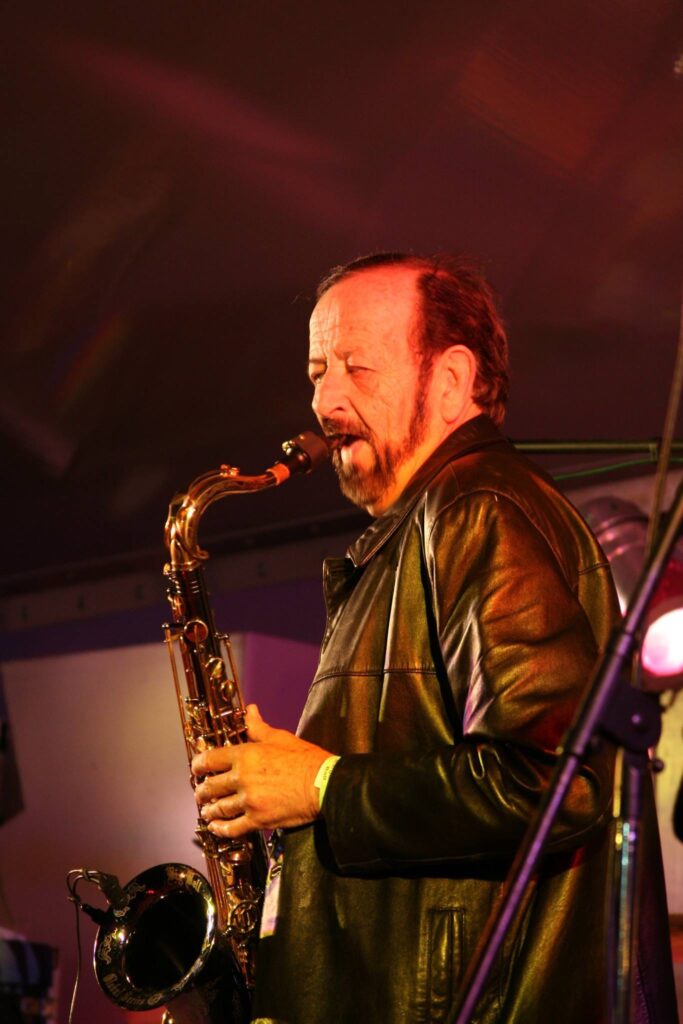 "And then along comes...Joey"
After two decades of rockin' hard, Don "Vice" Johnson the band's high-energy drummer 
developed tendonitis and arthritis in his thumbs. Occasionally, the intense pain prevented Don from performing. Fortunately, "Wolfman" had 
been plugged into the local music scene for decades. Once when the guys 
needed a substitute for Don, Wolfman introduced them to a true 
"presence", Drummer, Joe Adcock. This was one big guy with an amazing 
touch, and a personality that seemed to jell with the band right away. 
So, in 2008, after more than 20 years,  founding member Don Johnson 
retired. Joe agreed to become a full member of the band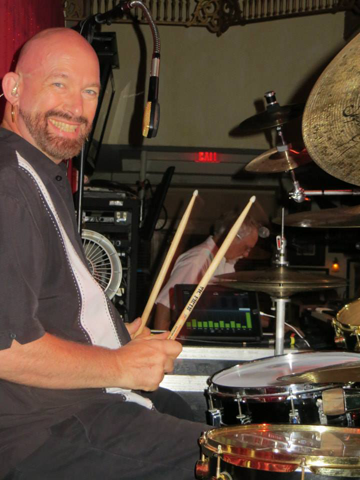 "I don't want to work, I want to bang on the drum 

all day."
It didn't take long for Joe to acquire a nickname 
himself. At 6'3" and 260 pounds, he dwarfed all of the Cadillacs, (even
The Bopper!). Joe also carried with him a set of drumsticks which must 
have been lathed out of tree trunks. Given his physical stature and
baseball bat-sized drumsticks, naturally, he became "Mighty Joe" Adcock.
With his deep Barry White-esque voice, wide grin, extreme endurance, and 
a flair for the extraordinary, Joe became an instant hit with longtime 
fans. In 2012, Joe joined the other Cadillacs' in the production of 
their first studio CD
Moving On ... A new place to call home base
The Villages is a census-designated place (CDP) in Sumter County, Florida, United States. It shares its name with a broader master-planned age-restricted community that spreads into portions of Lake and Marion counties. The Villages is comprised of special purpose Community Development Districts (CDD) "Villages", which are controlled by a board of supervisors (BoS), five individuals elected by the landowners of the district.
In 2001 "Cactus Jack and the Cadillacs" performed at the original sales center to promote the opening of a new "Village".  This began a two-decade plus adventure performing regularly at all of the town square locations as well as a very long stint at "Katie Belle's Music Hall"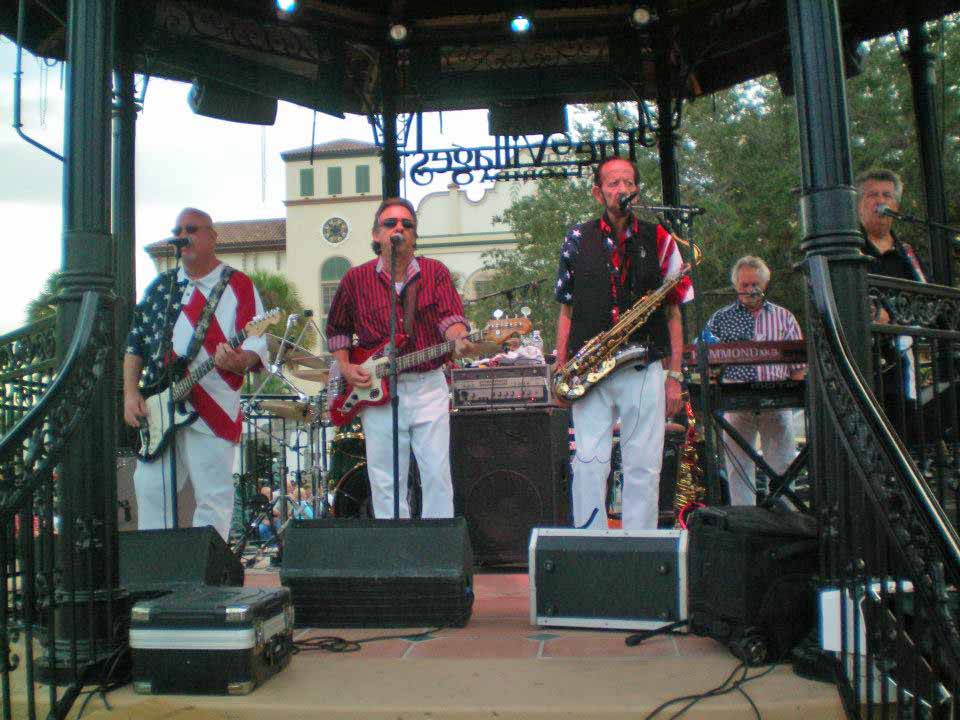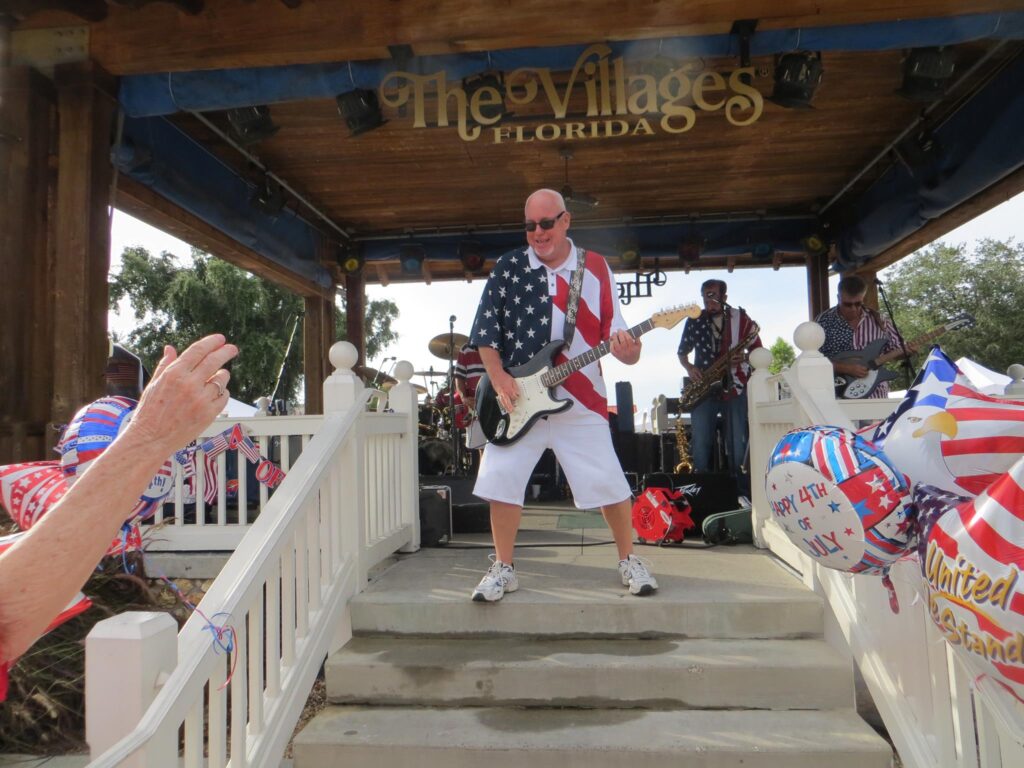 "I know I'll often stop and think about... him..."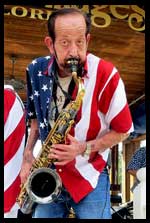 Randy "Wolfman" Lobeck
(5/29/1947 – 9/3/2013)
After the band's first and only studio CD was completed, the following September, tragedy struck. Randy 
"Wolfman" Lobeck suffered a fatal stroke. This was an extremely tough 
time for the band. They had lost a friend and a "brother" who had 
performed with them for over twelve years. This time it wasn't just 
that someone retired or separated and could show up from time to time; 
this time it was permanent. Randy was a unique personality, a gifted 
musician with a generous spirit. Although receiving countless offers and 
inquiries from local sax players to replace or fill-in for Randy, the 
Cadillacs decided he was 
irreplaceable. They would return 
to the original "lean and mean" five-piece 
instrumentation.
"I've got to admit it's getting better... a little better all the time"
Following the "lean and mean" theme, the 
band has focused on getting healthier and stronger. The guys are all 
working on individual programs that will prepare them for the Cadillacs' 
next thirty years together. They continue to love making music and 
performing for audiences all over the Southeast. Who knows, maybe they 
WILL make it another thirty two years. 
Randy "Cool Daddy" Hill (1/2/1955 – 3/18/2016)
March 2016: Another tragedy struck. Randy "Cool Daddy" Hill succumbed to a more than two year battle against cancer. This loss hit especially hard. Randy
was not simply a founding member of the band. To the remaining members, he was a brother. He was family. Randy was always there, in the pocket, a solid foundation 
for more than 30 years. We will remember him always. Randy fought courageously against this terrible disease; playing the Villages cruise within a few short weeks of enduring chemotherapy. For almost an additional year, 
he continued to perform as often as possible. The band never gave up hope that he would win the battle and return. But, it just wasn't to be. We'll miss our brother
until the day we are again jamming with him and the Wolfman in Rock-N-Roll Heaven.
We would like to give special thanks the substitute players who helped us get through these difficult times; especially Marc Rewis (Uncle Bob's Rock Shop), Gary Martin (Paul Stott Group), and Jay Burns for doing such a great job in standing in for Randy.
Kicking it up a notch: Introducing "Elron" Scott Lucas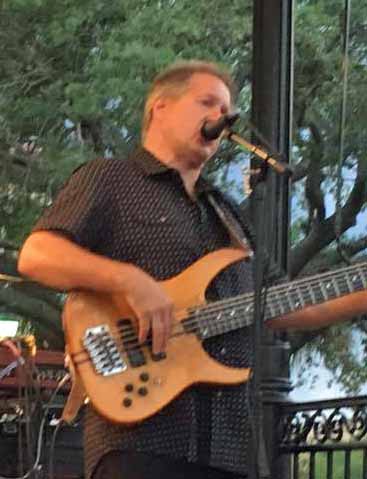 Introducing Scott Lucas: a master of the 6-string and fretless basses, and a ukulele bass. He is an accomplished vocalist, with a strong and energetic stage presence.  Basically, he's a "wild and crazy guy". Scott is definitely an excellent fit
for this band. With his funky bass lines, a robust bluesy vocal style, strong harmonies, and infectious energy, he brings a fresh new dimension to the band. He also brings with him a fourth lead vocal option to the group.
Side Note: The band is now getting younger.  Scott takes over for Joe as the youngest member of the band